MP Election 2023: After the Madhya Pradesh Assembly elections, everyone is now waiting for the counting of votes to be held on December 3. In such a situation, the eyes of the entire state are on Chhindwara assembly seat, from where former Chief Minister Kamla Nath is contesting the assembly elections for the second time. This time he is facing BJP candidate Vivek Bunty Sahu. Various speculations are being made regarding victory and defeat between the two leaders. Meanwhile, a case has come to light which has shocked everyone.
Actually, two businessmen in Chhindwara have placed a bet of Rs 10 lakh on the victory or defeat of the leaders of both the parties. A letter regarding this is going viral on social media. Let us tell you that the names of Prakash Sahu and Ram Mohan Sahu are written in this letter and a receipt has also been pasted on it, on which the condition imposed regarding the victory or defeat of Kamal Nath and Bunty Sahu is mentioned.
Bet of Rs 10 lakh
Let us tell you that after the end of voting, the matter of condition of victory and defeat on the letter pad of Congress-affiliated contractor Prakash Sahu is becoming increasingly viral. It is written in it that, if Kamal Nath loses the elections, then Prakash Sahu will give Rs 10 lakh to Ram Mohan Sahu as per the condition. Whereas if Vivek Bunty Sahu loses, then Ram Mohan Sahu will give Rs 1 lakh to Prakash Sahu on 3rd December.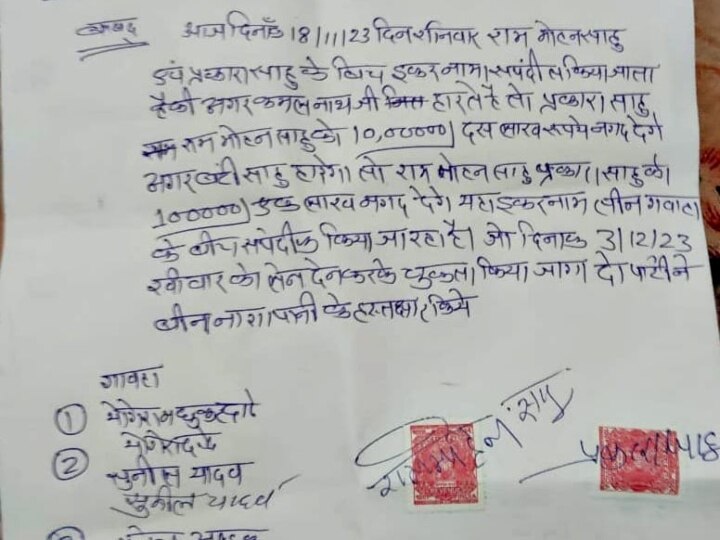 Three witnesses signed
The contract between the traders has been signed by both the parties by putting proper revenue stamp on the letter pad. Along with this, signatures of three witnesses have also been obtained. Now the letter pad with this condition is becoming increasingly viral on social media, over which people are being surprised. Let us tell you that both the parties betting on victory and defeat are from Sahu community.
Also read: WATCH: Girl student kidnapped near petrol pump in broad daylight in Gwalior, CCTV footage goes viral