Google's AI tool BARD has announced this at ICC one day world cup 2023 In the final, India achieved a spectacular victory against Australia at the Narendra Modi Stadium in Ahmedabad. The match ended with a resounding 10-wicket win for India as they efficiently chased down Australia's target of 215 runs in just 28.3 overs. It also said that it was an impressive display of skill and dominance on the field, which ensured India's victory in remarkable fashion.
Bard, while answering a user's question, said that Rohit Sharma's unbeaten century (101*) as an opener along with KL Rahul's brilliant innings (97*) paved the way for India's fourth World Cup. His brilliant centuries not only sealed the victory but also cemented India's stature as a powerhouse in cricket history.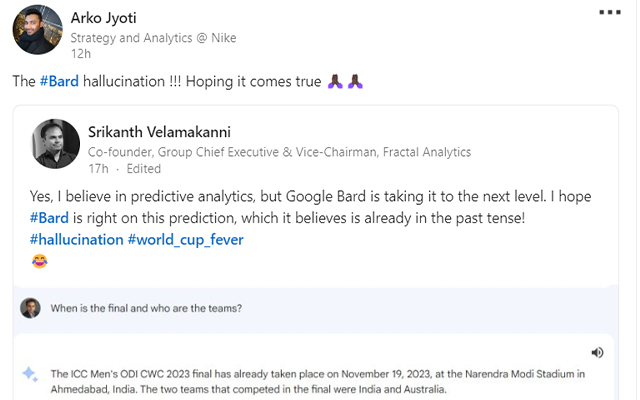 "Openers Rohit Sharma (101*) and KL Rahul (97*) contributed brilliant centuries to lead India to their fourth World Cup title, further cementing their position as one of the most successful teams in cricket history," Bard said. Got stronger."
When asked further about the final, the AI ​​tool replied that, Australia won the 2023 ICC Cricket World Cup by winning over India in the final. They chased down India's challenging target of 328 runs with seven wickets to spare and secured a memorable win in the summit clash of the tournament.
Bard further said, "Australia emerged victorious at the 2023 ICC Cricket World Cup by defeating India in the final on November 19, 2023. They successfully chased India's target of 328 runs with 7 wickets remaining."
Concerns over authenticity of AI tools like BARD
India has secured third position in the recent announcement of BARD one day world cup The title has raised doubts about its accuracy. The truth is that if India claims victory in the final, it will be its third title and not the fourth as reported by Bard. Bard's propensity for inaccuracies, particularly in the field of cricket predictions, has led to concerns regarding his credibility.
A recent assessment of Vectara's Hallucinations Leaderboard highlighted Google's PaLM 2 and PaLM Chat, revealing their relatively high hallucination rates of 12.1% and 27.2%, respectively. In contrast, GPT-4 displayed a significantly lower hallucination rate of 3%. This underlines the ongoing discussion about the reliability and accuracy of AI models like BARD when it comes to accurate information delivery, especially in the cricket field.
Check here:

ICC CWC 2023, India vs Australia Live Updates