Bigg Boss 17: Every day there is some commotion in the house of Bigg Boss 17. The bonding of Munawar Faruqui and Mannara Chopra is being seen since the beginning of the show. There has been a good friendship between the two. However, he was also linked up and some contestants in the house were seen teasing him. Now Munavvar's girlfriend Nazila Sitashi has shared a cryptic post.
'It is not what it seems online'
Nazila posted and wrote – One thing I want people to know is that it is not what it seems online. No one is as pure and morally correct as they try to pretend. In fact, the reality will surprise you even more. That's why they say 'you should never meet your idols'. Because they are different from how you see them in real life. That's why don't be fooled by what is being shown on TV and online.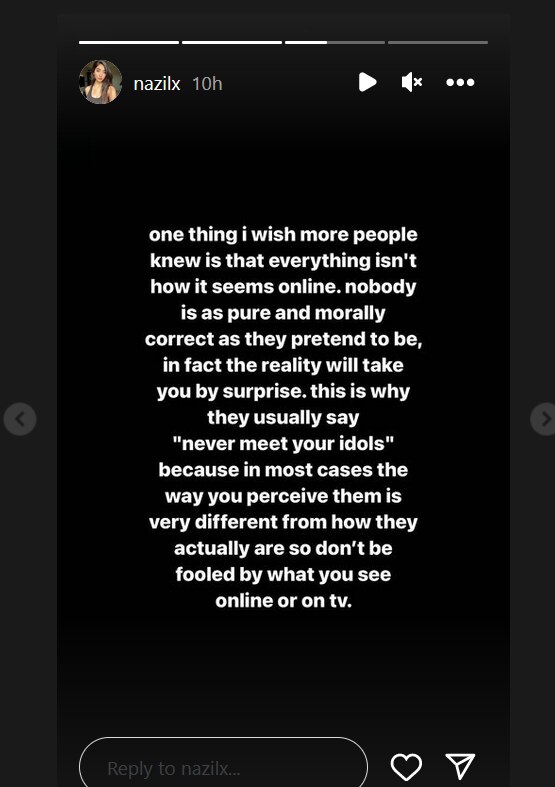 Now on one hand Munawar Faruqui and Mannara are in the news. On the other hand, after this post of Nazila Sitashi, there is discussion on social media that she has written this for Munawwar. However, Nazila Sitashi has not taken anyone's name in her message and it is a mystery whether she has written this post for Munawwar or in some other context.
Let us tell you that Munavvar and Mannara were the first contestants to connect in the show. He was first called to the confession room. Gradually friendship developed between them. However, he has also been seen fighting many times.
read this also- IFFI 2023: Anurag Thakur honored Madhuri Dixit with this special award, narrated the cinematic journey of the Dhak Dhak girl in a beautiful style.